When I was a child, my Iranian mother took care of the cooking. On school nights, we ate healthy meals of pasta or meat and two veg that could have appeared on any other British dinner table.
But on special occasions, like Persian New Year or when our family begged her far enough in advance to allow her time to collect ingredients from Brighton's sole Pakistani shop in the city centre, she would make us Iranian food. If we were particularly well behaved, she would cook us fesenjan: chunks of chicken bathed in a sour curry made with earthy walnuts and thick pomegranate molasses.
The centerpiece would be the pride of every Iranian dinner table: a pile of perfectly steamed jewelled rice – each strand separated from the rest so that it danced on the plate – decorated with colourful raisins, barberries and pomegranates, and embellished with a stripe of yellow saffron-soaked rice down the middle.
As an uncultivated seven-year-old, my favourite part was tahdig – which means "bottom of the pot". Persian rice is boiled and then steamed, leaving behind a buttery slab of crispy rice. As a child I quickly learned that snatching the entire piece wasn't acceptable when a relative visited and my mother gently suggested that I leave some for our guest, too.
To me, Iranian food was the best in the world. But I fully realised that few others knew what it was, and even regarded it as something "a bit weird", when an Iranian man appeared on Come Dine with Me for the first time.
Ecstatic, I shouted at my parents to come into the living room and watch as he presented his guests with the same rice I had eaten in my childhood, and the those same golden chunks of tahdig. We couldn't wait to see their amazement. But our hearts sank as the other contestants complained that he had simply served them strange, burnt rice and he should have simply admitted that he had cooked it wrong.
So years later when I saw Persiana, a cookbook by British-Iranian chef Sabrina Ghayour, on a shelf at a chain women's clothing store I was shocked. Iranian food had finally arrived.
It appears to be on the cusp of entering the mainstream British palate, joining the likes of Thai green curry and hummus – foods that it is now embarrassing to say that you haven't tried, but two decades ago were unknown to many people.
The cuisine is familiar yet different. Some dishes are comparable to the thick texture of Indian curries or Pakistani meat stews, but made with delicate herbs and spices such as saffron, cinnamon, cumin, and dried limes. The kebabs resemble the Turkish variety, but the chicken or lamb is marinated in saffron and lime juice and served on skewers with mounds of steamed rice, chunky grilled tomatoes and herbs.
The tessellation of a few factors has created the perfect storm for Iranian food to rise to prominence. Firstly, the two waves of Iranian immigration to the UK.
"With every political upheaval in the country waves of dissidents have left and settled abroad. These included left-wing activists and intellectuals, among others," says Shahrzad Ghorashian, an expert in the history of Iranian food.
"Around the time of the Islamic Revolution there was a large exodus of the upper-middle classes, especially those with close connections to the court, the government and the armed forces.
"As the revolutionary trend turned against its left-wing components they also left Iran seeking refuge in the West." Their children have since grown up and are exploring their parents' culture.
Meanwhile the young people who studied at British universities since the 2000s have formed small communities in London, Birmingham, Manchester, Leeds, Newcastle and Glasgow, and created a demand for high-quality restaurants serving food from home, explains Dr Philip Grant, Research Fellow at the Edinburgh's School of Political and Social Science.
Our customers thought Iranian food was all about kebabs
Bijan Behzadi, a restaurateur who opened Kateh in West London in 2011, believes that Persian food has already hit the mainstream – at least in the capital.
His was the first Iranian restaurant to receive a Michelin Guide Bib Gourmand, and was voted among the top 10 of best restaurants in London on OpenTable.
Iran stretches from Pakistan to Turkey, and encompasses regions with snowy mountains and barren deserts. Such varied geography reflects in the food. Behzadi believes this may be the secret to the cuisine's burgeoning popularity.
There is a dish to suit every palate: simple mahi pollo of grilled fish and fluffy dill-seasoned rice; the complex flavours of ghormeh sabzi, a deep-green herb, lentil and lamb or beef stew; and aash: hearty soups called filled with pulses and seasoned with kashk, a kind of sour yoghurt.
"The north uses a lot of pomegranate and walnuts whereas in the south you find tamarind and also lots of different species of fish – which are a surprise to our customers who thought Iranian food was all about kebabs."
A focus on healthy eating and the popularity of Mediterranean food also plays a part, says Farshi Ziafat, head chef of Hafez, also in west London.
Thanks largely to Yotam Ottolenghi, the cook who has lead a Middle Eastern food revolution from his eponymous north London café, products such as sumac and now pomegranate molasses are easier to find.
"Iranian food is colourful and uses many ingredients that have been highlighted as 'superfoods', with purported health benefits," says Ziafat.
This stems from ancient Ayurvedic medicine which many Iranians still loosely follow today, he adds. The practice states that food must be balanced between the "hot" – such as nuts – and "cold" – like refreshing fruits.
"This means that things like saffron; Omani limes; sumac; fresh herbs and nuts; fruits such as pomegranate; yoghurt; and high-quality meat and fish are central to the food," he says.
Writer Yasmin Khan, whose mother is Iranian, documented the food and contemporary lives of people in Iran for her new cookery book, The Saffron Tales, after she travelled 3000km through the country over three years. She hopes that it will change perceptions of a nation whose fascinating history and unique culture is clouded by turbulent politics.
"I wanted to show people the real Iran, with human stories and delicious recipes. So much of the depiction of Iran is constricted to a narrow political prism of its government but there is so much more to the country than that, not least its magnificent cuisine.
"In the same way that all of us know how to whip up a curry with what we have in the store cupboard or fridge, I'd love to be able to inspire people to be 'Persianise' any meal."
And as tensions ease with the West, the British embassy is reinstated in Tehran, and British Airways plans to restart flights to the capital in July, Iran will become more appealing as a tourist destination than it has done for years.
"I hope to see more people visiting Iran – it is a beautiful country with dazzling natural landscapes, incredible architecture, 19 Unesco cultural heritage sites and the most hospitable people in the world," says Khan.
"The best way to sample the food is to go there."
Try Iranian cooking at home with recipes from Yasmin Khan's The Saffron Tales, published by Bloomsbury
Aash-e reshte, or legume noodle soup 
Serves 4–6
This nourishing soup is so important to Iranians that every city across the country has cafés and streets stalls dedicated to making it, and in the winter months, hungry customers form queues outside the most popular spots.
In Isfahan, I tucked into a bowlful in the courtyard of the Abbasi Hotel – reputedly the oldest hotel in the world. Dining there, amid blossoming trees and trickling fountains, it was easy to imagine myself transported back 300 years to when the hotel first opened and weary travellers would have replenished themselves with the same soup.
It is traditional to serve this with a small drizzle of kashk – an umami-flavoured fermented whey, which tastes a bit like salted goat's cheese. It is usually available in Middle Eastern stores, but if you can't get hold of any, yoghurt is also commonly used as a topping.
3 tbsp sunflower oil
1 medium onion, finely chopped
4 garlic cloves, crushed
1 x 400g tin of chickpeas, drained and rinsed
1 x 400g tin of red kidney beans, drained and rinsed
150g green lentils, rinsed
½ tbsp turmeric
2 tbsp dried dill
1 tbsp dried mint
1 tbsp dried coriander
1 tbsp dried fenugreek leaves (see page 24)
500ml water
1 litre good-quality chicken or vegetable stock
100g spaghetti, broken in half
200g spinach, roughly chopped
25g bunch chives, finely chopped
Juice of ½ lemon
1½ tbsp soy sauce
3 tbsp extra-virgin olive oil
1 tsp sea salt
1 tsp black pepper
For the toppings:
1 medium onion, finely sliced into half-moons
2 tbsp flour
½ teaspoon sea salt
3 tbsp sunflower oil
100ml liquid kashk or 200g Greek yoghurt
1 tbsp dried mint
Heat the sunflower oil a large heavy-based pan with a lid. Add the onion and fry over a low heat for 10–15 minutes. When the onion has softened, add the garlic and fry for a further 2 minutes.
Add the chickpeas, beans, lentils, turmeric, dried herbs and water. Stir and then stick the lid on the pan and leave to simmer over a low heat for 40 minutes. Stir occasionally so the soup doesn't get too dry and stick to the bottom of the pan. If it does, just add another cup of water.
Add the stock to the pan, along with the spaghetti. Bring to the boil, then simmer for about 10 minutes.
Meanwhile, prepare your fried onion topping. Dust the sliced onion with the flour and salt. Heat the oil in a frying pan until it begins to sizzle and then add the onion. Fry over a medium heat for 6–8 minutes until the onion is golden brown and crispy. Set aside on some kitchen paper to drain and sprinkle over a little more salt.
Next, add the spinach, chives, lemon juice, soy sauce, olive oil, salt and pepper to your soup. Leave to simmer for a final 10 minutes for the flavours to combine, then taste and adjust the seasoning to your preference.
To serve, pour the soup into bowls and garnish with a drizzle of kashk or a dollop of yoghurt. Finish with a sprinkle of the crispy fried onions and a pinch of dried mint.
Fesenjan, or chicken with walnuts and pomegranates
Serves 4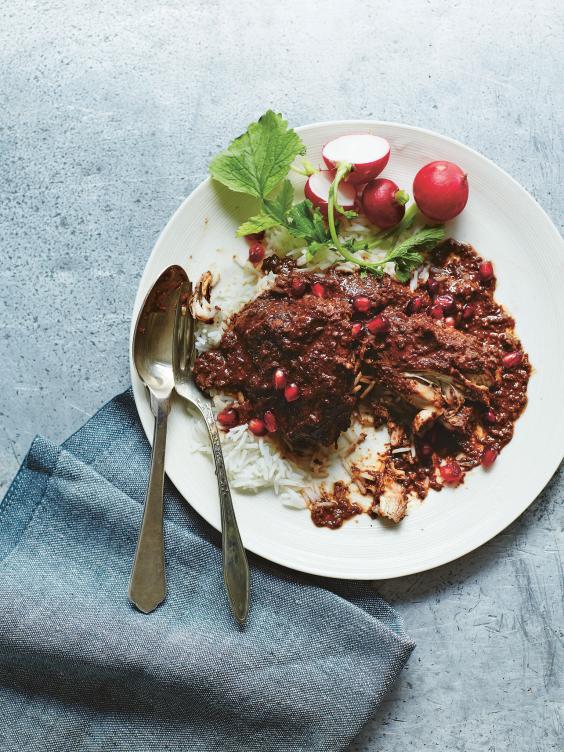 This rich and incredibly moreish stew has just three key ingredients, which come together to create a truly sumptuous dish. Fesenjan is one of the stars of Persian cuisine and a dish that is often made for special occasions such as weddings. Don't be put off by the time it needs on the hob. It couldn't be simpler to make, and once everything is cooking you won't need to do anything other than let it bubble gently in the background.
The longer you leave the walnuts to cook, the more flavoursome the final stew will be, so feel free to let it simmer away before you add the chicken. Be sure to use fresh walnuts, as old ones can make the dish taste bitter.
Serve with white rice, a salad shirazi and some crunchy radishes on the side. In place of chicken, you could use duck or butternut squash. I often make a delicious vegetarian version with aubergines, which I've included opposite.
250g walnuts (the fresher the better)
1.2 litres cold water
100ml pomegranate molasses
1 tbsp tomato purée
¼ tsp ground cinnamon
2 tbsp sugar
2 tsp sea salt
1 tsp black pepper
¼ tsp golpar (optional)
800g skinless chicken thighs, on the bone
A handful of pomegranate seeds, to garnish
In a food processor, grind the walnuts until they are extremely fine and have the consistency of a smooth paste. Place the ground nuts in a large casserole pot with 1 litre of water and mix well. Bring to the boil and cook on a high heat for 5 minutes, then reduce the heat. Simmer for 1 hour, partially covered, stirring occasionally to stop the walnuts sticking.
Add the remaining 200ml of water, give the sauce a good stir, then stick the lid back on and leave to simmer for another hour. If the sauce starts looking dry, add some more cold water. You are aiming for a thick, porridge-like consistency.
The sauce should now have thickened and darkened in colour. Add the pomegranate molasses, tomato purée, cinnamon, sugar, salt and pepper and golpar (if you have some) and stir well. Add the chicken pieces, place the lid on the pot and continue to cook over a low heat for 45 minutes, until the chicken is cooked and the sauce is a glossy, dark chocolate colour.
Taste the sauce for seasoning and adjust to your preference: to make it a bit sweeter add more sugar, or pomegranate molasses to make it sourer. Cook for a final 10 minutes with the lid off so the sauce thickens around the meat. Sprinkle with a handful of pomegranate seeds before serving.
Aubergine fesenjan
Follow the recipe above, substituting the chicken with thick slices of grilled aubergine. While the walnut sauce is cooking, take two aubergines and slice them lengthways in half and then into quarters. Brush the slices with a little olive oil and sprinkle generously with salt.
Heat the grill to medium. Place the aubergines under the grill for about 10 minutes, turning once until they are cooked on both sides. Gently add the aubergines to the stew just before serving to warm them up. Take care not to mix them too much when they are in the pot, as they will disintegrate.
Aloo esfinaj or chicken stew with spinach and prunes
Serves 4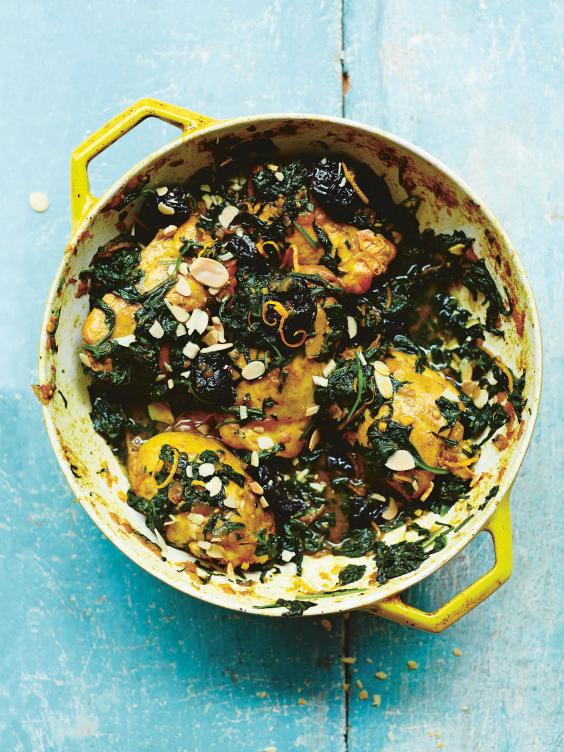 This stew was inspired by a glorious afternoon's cooking in Rasht with pharmacist Sima Mohamadzahdeh, who likes to pot-roast a whole chicken when entertaining guests, presenting it on a bed of spinach and prune sauce. My version of her masterpiece involves poaching flavourful chicken thigh pieces with some warming spices before cooking them in the luscious green sauce.
This khoresht is traditionally made with the juice of Seville oranges (narenj), which give a subtle, sweet and sour hint to the chicken and bring out the earthy notes of the spinach. Since these are not widely available here, ordinary oranges combined with lime juice provide an intense, tangy flavour of their own. Serve with rice and a green salad.
Sunflower oil
2 medium onions, finely chopped
2 garlic cloves, crushed
8 chicken thighs, on the bone, skin off
200ml good-quality chicken stock
1 tsp turmeric
⅛ tsp ground cinnamon
Sea salt and black pepper
½ tsp saffron strands
A pinch of sugar
2 tbsp freshly boiled water
800g spinach, roughly chopped
Juice of 1 lime
Juice of 1 orange
Pared zest of ½ orange, sliced into thin strips
150g prunes
1½ tbsp flaked almonds, to garnish
Heat 3 tablespoons of oil in a large casserole pot and fry the onions over a low heat for 25 minutes, until they are soft and beginning to caramelise. Add the garlic and fry for another 2 minutes.
Turn up the heat and add the chicken. Cook for a few minutes to brown the chicken on all sides. Lower the heat, then add the stock, turmeric, cinnamon, a teaspoon of salt and ½ teaspoon of black pepper. Cover with a lid and cook for 35 minutes.
Meanwhile, make a saffron liquid by grinding the saffron strands with a pinch of sugar using a pestle and mortar and then adding the boiled water. Leave to steep.
In a large pot or wok, cook the spinach over a high heat until it has wilted and then place in a colander to drain. You'll probably have to do this in a few batches, unless you have an extremely large pot. Let the spinach cool and then squeeze it dry with your hands. Roughly chop and set aside.
After the chicken has been cooking for 35 minutes, add the chopped spinach and the lime and orange juice, along with the orange zest and saffron liquid. Place a lid on the pot and leave to simmer for 10 minutes.
Fry the prunes in 1 tablespoon of oil until they just start to plump up and caramelise. Add them to the stew and cook for a final 5 minutes. Taste and adjust the seasoning, adding more salt and pepper to your preference.
Toast some flaked almonds in a small pan over a low heat for 1 minute until they start to go a golden brown colour. Sprinkle the toasted nuts onto the stew just before serving.
independent