Ancient cities, a modern capital and intrigue aplenty – Chloe Cann finds out why Iran is flying off the shelves for British adventure tour operators
Wedged between Iraq and Afghanistan, Iran may appear a formidable destination, inspiring only the most intrepid to visit. Though it wasn't always that way.
From the mid-1960s through to the late 1970s it was an integral part of the "Hippie Trail" with travellers from all over Europe making their way through the Middle East and down into India as a rite of passage.
But the Iranian Revolution of 1979 and the Soviet invasion of Afghanistan, also in 1979, put an end to that.
New dawn
Several recent events, however, suggest Iran is paving the way for a sustained tourism revival.
In February 2014 the Iranian Embassy in London was restored and by August 2015 it had officially reopened as diplomatic relations thawed, making it easier for Brits to obtain tourist visas.
In July last year the Foreign Office eased its travel advisory, which previously warned against travel to all of Iran and meant that adequate travel insurance was hard to come by.
And in January this year economic sanctions on Iran were lifted.
As a result, an increasing number of airlines and hoteliers are falling over themselves to be among the first to serve the destination.
Air France resumed its service there in April, Austrian Airlines doubled the frequency of its service in March and British Airways will resume flights there in September.
Meanwhile, AccorHotels opened an Ibis and Novotel in Tehran in October; Melia Hotels International will open the country's first new five-star hotel owned by a foreign group next year on the shores of the Caspian Sea; and Rotana hotels group will open four hotels there between 2017 and 2018.
Some estimates suggest up to 125 hotels operated by international and local firms will open in 2016.
Numerous operators have also found success with the destination.
"Iran has been popular for Intrepid for a few years now," says Daniella Van Haltren, the company's regional product manager.
"We've been increasing the number of departures on our Iran Adventure trip every year since 2012. All 21 of Intrepid's Iran Adventure tours sold out last year and there are just a handful of places left on this year's departures. Iran has experienced this surge in popularity because not only does it appeal in an exotic, off-the-beaten track sense – but it also hasn't been on the tourism radar like some of its Middle Eastern neighbours."
It's a similar story at Explore.
Jonny May, product manager for Africa and the Middle East, says the country is "one of the biggest destinations" the operator has.
Explore relaunched its trips to Iran last year following a four-year hiatus, and May adds the tours have proven "very, very popular".
Regent Holidays, which offers two escorted tours there, has even created a new Iran product manager role in light of its popularity.
But despite the glut of new product and improved access, Iran remains an exotic destination that won't appeal to everyone notes Van Haltren.
"It tends to attract well-travelled clients who want to experience something different," she says.
For Explore, the typical customer is aged between 40 and 60 and interested in art, history, culture and religion, of which Iran has swathes.
Cultural draws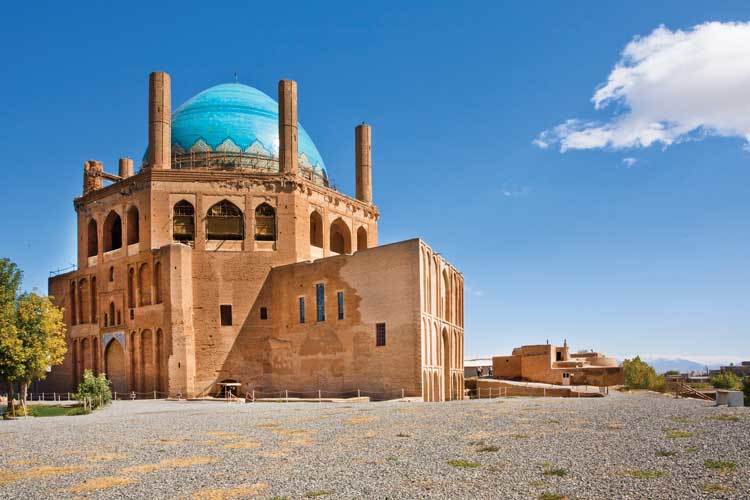 The remains of the ancient capital of Persepolis are a major draw; as is the city of Yazd, which according to Unesco is one of the oldest on the planet; while the storied city of Esfahan is famed for its historic monuments and architecture, and considered the cultural core of the eastern Islamic world.
And cities aside there is much more to explore – from the Caspian coastline to the nation's vast deserts and snow-capped mountain ranges.
Nick Williams, director of ski specialist Mountain Heaven, who visited for the first time in March this year, thinks many will be surprised by what the destination has to offer.
"Everyone's into fashion, locals are driving Porsches and Iranians are the friendliest people I've ever met. We literally didn't stop talking – as soon as locals found out we were British they wanted to thank us for coming and invite us into their homes."
The UK-based operator is the first to offer skiing holidays in Iran, and its two inaugural trips will take place in early 2017.
Though it has a turbulent past and is situated between some volatile nations, Williams is quick to dispel the notion that Iran is dangerous.
"It's possibly the safest country I've ever been to. Security in cities is very tight and you feel extremely safe." A sentiment that is echoed by May.
Two other unexpected boons of travelling to Iran are the cost and its relative proximity to England.
"It's only a six-hour flight from London, and you get a fantastic experience for a reasonable price," Williams says.
In fact, when looking into flights he found it was cheaper to fly to Iranian capital Tehran in February 2017 than it was to land at skiing gateway Geneva.
The cost of Mountain Heaven's inaugural eight-day escorted ski trips are £1,100pp, excluding flights.
Limited choice
There are, however, a couple of caveats to travel in the Middle Eastern nation.
Though many acknowledge Persian food as a highlight, Williams warns that anyone with special dietary requirements (whether vegetarian, vegan or suffering from food intolerances) will find it very difficult to have their needs catered to.
And while new builds are springing up across the country, the standard does not match what some British travellers may have come to expect from jaunts in Europe or the UAE.
"There's a very limited choice of hotels," Williams explains. "[They] are comfortable – but not luxurious – two and three-star hotels."
And though infrastructure is improving Iran is arguably a country that necessitates travelling on an organised tour.
"It is so difficult to organise yourself it's almost impossible," notes Williams.
Aside from having a guide on hand to help walk you through the country's cultural nuances and vast cultural heritage, an escorted tour means travellers can ease the administrative burden that a trip to Iran can entail, says May.
"From the start there's a lot of bureaucracy, and it would be hard work to organise independently.
"It's a lot easier to get a visa if you're doing it through a company who can sort all the documentation for you. We didn't see any independent travellers while we there in November."
He adds that the majority of hotels rely on Iranian business and aren't set up for foreign tourists, with most websites written in Farsi.
While it won't appeal to all your customers and isn't the world's easiest country to explore, Iran's cultural treasures, hospitable locals and unique landscapes are arguably unparalleled.
"It's an interesting process to get in," says Williams. "And I didn't really know what to expect, but it was one of the best trips I've ever had."
Need to know before you go
British nationals need a visa to travel to Iran, which costs £180.
Female tourists (including girls aged nine and over) must wear a headscarf, trousers or a floor-length skirt, and a long-sleeved tunic or coat that reaches to mid-thigh or knee. Male tourists should wear long trousers and long-sleeve shirts.
Iranian hotel managers may insist on seeing a marriage certificate before allowing any couple to share a double room.
Debit and credit cards won't work in Iran and no cash machines accept UK bank cards. It is not usually possible to change travellers' cheques and it is illegal to change money on the street. Visitors should bring enough hard currency with them in either US dollars or euros.
Alcohol is illegal in Iran.
Anyone planning to visit the US will need to apply for a tourist visa instead of the Visa Waiver Program (Esta) if they have travelled to Iran within the previous five years.
The best times to visit are spring (March-May) and autumn (September-November). The ski season is mid-November until mid-March.
Find further information on travel to Iran through the FCO.
ttgmedia